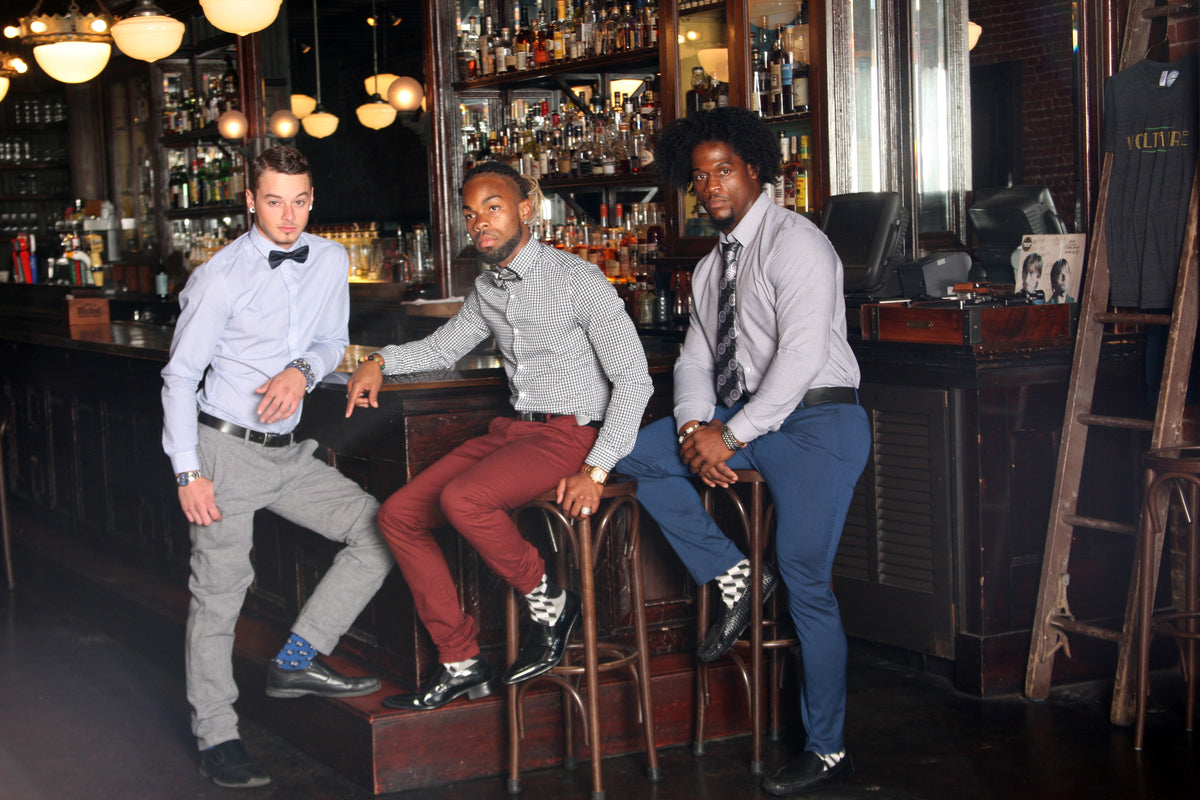 As the days get shorter and the weather chills off, it's time to start thinking about your winter wardrobe and all it has to offer you on these chilly days. Wearing different layers of clothing becomes a necessity to stay warm. And guess what… The professionals at Innovative Menswear have mastered the art form of stylish layering and we're going to let you in on our little secret. oh, and we'll add a little bit of a fresh twist!
The first rule of layering clothing: stick with the rule of three. Adding too many layers to a single outfit will make your shoulders and arms feel stiff and very uncomfortable. Too many layers can also make your body look bloated. Just think about two types of shirts (like a v-neck t-shirt or a Henley) and a jacket layered over them. If you want something fancy- you can wear a dress shirt, vest, and jacket.
The second rule of layering: Make sure you are mixing and matching fabrics, textures, and weaves. Textured fabric plays a huge role in men's clothing if you don't want your outfit to look plain and dull. Wearing different patterns and textures is a really nice way of making the outfit more exciting. Make sure you wear your most complex patterns as the top layer. Make sure you are mixing and matching your suit fabrics, textures, and weaves, too!
Rule number three: This is kind of a no-brainer but layer your clothing from thin to thick. Remember, bulky on the outside, close-fitting on the inside. This will make it a lot easier to regulate your temperature and gives the outfit a sense of depth. If it becomes warm you can always take layers off. 
Rule number four (the fresh twist): A common layer most people forget about is their undergarments! At Innovative Menswear, we believe that the most beautiful things are on the inside and just because your socks and underwear go un-noticed (generally 😊) doesn't mean they shouldn't match! The Innovative Menswear professionals, created a membership that allows you to receive new and designer coordinating sets sent to your home each month. You are able to choose from a 2-product membership (bow tie/necktie and socks), or a 3-product membership (bow tie/necktie, underwear, and socks).
As always though, we recommend you just keep it simple, especially when you're a beginner. You don't have to create something flashy to look good. Don't overthink it.
Let Innovative Menswear upgrade your undergarment look and expand your wardrobe.
Let's get your wardrobe back in style, Sign up today!